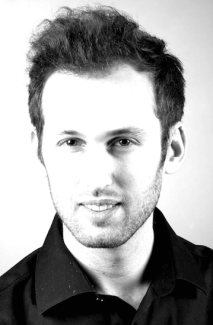 Benjamin
Katz *
Harpsichord
Benjamin Katz has performed as a harpsichordist and early keyboard player since 2001. He has appeared in the USA in Europe as a soloist and collaborated with groups including ACRONYM (NYC), The Knights (NYC ), A Far Cry (Boston), Night Music Ensemble (Philadelphia), and Cecelia's Circle (Boston). He has played with baroque cellist Phoebe Carrai, with vocalists Julianne Baird, Amanda Forsythe, Catherine Bott, Alice Teyssier, Nell Snaidas, Sophie Michaux, and Meg Bragle, with violinists Adriane Post, Evan Few, Stefan Jackiw, and Dana Maiben, lutenist Elizabeth Kenny, baroque-flutist Stephen Zohn, and many other accomplished artists, including members of Apollo's Fire and Philharmonia Baroque. He has appeared in venues including Fenton House (London, UK), and BRIC (NYC), the Isabella Stewart Gardner Museum (Boston) and ISSUE Project Room (NYC).
Katz combines his interest in early music with an engagement with new music; at a recent concert at the Owl Music Parlor (NYC) he delivered a program that included music by Bernardo Pasquini (1637-1710), Elisabeth Claude Jacquet de la Guerre (1665-1729) and contemporary NYC composers Steven Long and Anthony Coleman.
In the realm of early keyboard, basso continuo, improvisation, and collaboration are at the heart of Katz's practice. He takes a creative and imaginative approach to the harpsichord and early keyboard, inspired by the vibrant traces of the past inscribed in ancient scores and musical sources, and the magical present-day exchange of ideas and energy between fellow musicians.
Katz maintains a deep engagement with the scholarly and performance community currently investigating historical improvisation in music from the middle ages to the Early Modern Era. In 2013-14, a grant from the Beebe Foundation (Boston), took him to London, where he studied Bernardo Pasquini's autograph partimenti (compositions notated as figured basses) in the British Library. Katz has presented original research on Nicola Porpora's partimenti at the Stile Galante International Porpora Conference. He has been invited by the New School and Harvard University to demonstrate and speak about historical improvisation.
Katz has studied Historical Keyboards with Arthur Haas (NYC), Lisa Goode-Crawford, Webb Wiggins (Oberlin Conservatory) Pierre Hantai (Paris), Peter Sykes (Longy School of Music) and Joyce Lindorff. (Temple University). He has studied composition and improvisation with Anthony Coleman, Henry Grimes, Jim Pugliese, and Kitty Brazelton.
In 2021 he became the first Historical Keyboard doctoral graduate at Temple University (D.M.A.) working with advisor Prof. Joyce Lindorff. His dissertation compares improvisatory practices of three early modern musicians, Christopher Simpson, Bernardo Pasquini, and CPE Bach. At Temple, he was an active participant in the research and performance community, co-organizing a marathon Couperin concert for the composer's 350th birthday, and co-convening a conference on female musicians through history, where he presented in a study day and performed the music of Barbara Strozzi in duo with celebrated Philadelphia-based soprano Julianne Baird.
Katz has recorded on harpsichord with ACRONYM (Olde Focus Recording), and on organ with Cecelia's Circle (Centaur) and Meilyr Jones (Moshi Moshi).
As a music-dance collaborator, Katz has worked with baroque dancers Kaspar Mainz and Dorrie Olson, as well as with members of NYC Ballet, BalletX, and PA Ballet.
He is curator of the Katz Collection of Antiquarian Music, a private collection started in 2014. The collection is centered around previously unrecorded works in manuscript by major, lesser-known, and anonymous composers of the seventeenth and eighteenth centuries. Composers represented include Frescobaldi, Falconieri, Leo, Anglesi, Scarlatti, Purcell et al. Manuscripts in the collection are connected, through their histories, composers, and scribes, to archives, libraries and private collections including the Bibliothèque nationale de France, University of Pennsylvania, Newberry Library, Graf von Schönborn-Wiesentheid Collection, and Cortot and Hogwood's collections. The Katz Collection's manuscript of unrecorded lifetime harpsichord transcriptions of Henry Purcell, composed by the scribe designated Hand F by musicologist Bruce Gustafson (Newberry Library, Roper Manuscript) will be published for the Purcell Society Edition by Stainer and Bell (London, UK),
Katz's 17th century manuscript of Frescobaldi and Falconieri, et al, linked to the Medici family's musical patronage, was presented on Duke University's Rare Music series with the participation of Katz's frequent duo collaborator, soprano Julianne Baird. He worked with eminent musicologist Alexander Silbiger to research the manuscript, which was subsequently included by Professor Silbiger in the Frescobaldi Thematic Catalogue Online. Remarkably, two pieces in this manuscript complete pieces in the Bnf and British Library, one anonymous and one by Falconieri, for which complete sets of parts are missing. The manuscript also contains substantial pieces by Medici court composer Domenico Anglesi (1610-1674),
Katz has worked as a harpsichordist at University of Pennsylvania, in collaboration with Professor Meg Bragle and Professor Mauro Calcagno, on an opera workshop of 17th century Italian and British works including music from Purcell's King Arthur and Rossi's Orfeo. For the past ten years, he has worked with baroque harpist Christa Patton, director of the Queens College Baroque Opera Workshop as a regular faculty member of that workshop, acting as repetiteur and participating in performances with lutenist Deb Fox, violinist Dongmyung Ahn, and guest artists including Antonio Fava, commedia dell'arte actor.
Future projects include performances and recordings of partimenti and previously unknown and unexplored 17th and 18th keyboard and chamber music, and further performances of new music for early keyboard instruments.
*Benjamin Katz will be on faculty for Week 1 of the 2022 Amherst Early Music Festival.
Link: