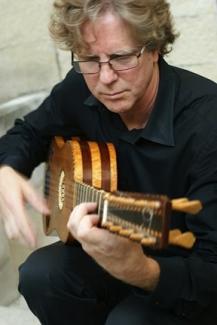 Grant
Herreid *
Lute Voice
Originally a trumpet player from Portland, Grant Herreid is now a versatile musician/director/teacher on the early music scene. As a multi-instrumentalist and singer he performs frequently on winds, strings and voice with Hesperus and Piffaro, and he plays theorbo and lute with New York City Opera and the baroque ensemble Artek. He teaches at Yale University and Mannes College of Music / the New School and directs the New York Continuo Collective.
Grant has created and directed several theatrical early music shows, including 'Il Caffe d'Amore', a pastiche of early 17th century Italian songs and arias, and the 15th century English 'Holly and Ivy: A Mid-Winter Feast of Fools'. For the Amherst Early Music Festival he has created and directed 'A Day At The Faire', an Elizabethan rustic music-drama; an early 17th century production of Guarini's 'Il Pastor Fido'; and 'The Ballet of the Twelve Nations: Prelude to the Thirty Years War', an early 17th century German production featuring alchemy and intrigue. But mostly he devotes his time to exploring the art of the cantastorie and other esoteric unwritten traditions of early Renaissance music with the group Ex Umbris.
*Grant Herreid will be on faculty for Week 1 of the 2023 Amherst Early Music Festival.