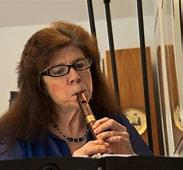 Deborah
Booth
Recorder & Flute
Deborah Booth is an active recorder and flute performer of historical and modern instruments, and the co-founder and director of Ensemble BREVE and St. Michael's Baroque Ensemble.  Performances include the Handel & Haydn Society, the Orchestra of St. Luke's, Boston Early Music Festival, Amherst Early Music, Trinity Bach Vespers (NYC), Dorian Baroque Orchestra, Big Apple Baroque, recorder soloist with the Ciompi Quartet, Gotham City Baroque Orchestra, Long Island Baroque Ensemble, Bacchanalia Baroque Ensemble, and Ivory Consort.  Ms. Booth has toured extensively in the United States, Europe, Mexico, and South America.   Recent performances include Kleine Musik, a project featuring 17th and 21st century settings of "Kleine Geistliche Konzerte" by Heinrich Schutz and Ivan Moody (U. S. Premiere) and conducting  highly successful Mass Appeals for Make Music New York – 2012 and 2013.

The Times reviewed her performances as "technically precise and musically expressive".  Recordings include a CD as flute and recorder soloist with the American Boy Choir (American Songfest), as well as soundtrack for the television show Blues Clues.  New projects this fall include concerts with St. Michael's Baroque.

Ms. Booth teaches in New York City, Greenwich, CT,  directs the Princeton Recorder Academy, and has taught and played each summer at the Amherst Early Music Festival and numerous other summer festivals such as Pinewoods Early Music Week. Mideast Workshop, and the Long Island Recorder Festival.   Conducting experience includes The Recorder Orchestra of New York (RONY) from 2004 to 2008.  Ms. Booth is in demand nationally as a workshop director for the American Recorder Society and the National Flute Association and has recently accepted an appointment on the faculty of Marymount Manhattan College.

Conversations a recording of 17th and 18th century music for recorder and flute with harpsichord, organ, viola da gamba, cello, and bassoon was released in September of 2012.