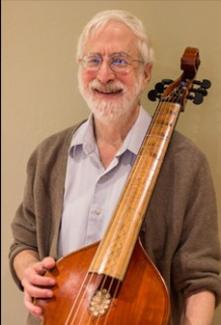 Larry
Lipkis *
Viol
Dr. Larry Lipkis is Composer-in-Residence and Bertha Mae Starner '27 and Jay F. Starner Professor of Music at Moravian University. He has been a full-time faculty member since 1979 and served as Chair of the Music Department from 1997-2000. As Composer-in-Residence, Dr. Lipkis supervises the students in the Composition track of the Bachelor of Music program, which includes giving individual and group lessons in composition and directing the annual Moravian University Composers' Concert.  He also teaches Form, Orchestration, 20th C. Music to 1945, Contemporary Music after 1945, and Music in Spain (a study abroad course).  He frequently serves as academic advisor to Honors Projects on diverse topics spanning the entire range of music history.
Dr. Lipkis has composed dozens of works for a variety of vocal and instrumental ensembles, including several concertos which have been performed by the Los Angeles Philharmonic, Houston Symphony, and Lehigh Valley Chamber Orchestra. Scores and YouTube clips of most of his works are available on the J.W. Pepper My Score site (https://www.jwpepper.com/sheet-music/search.jsp?keywords=larry+lipkis.&…; His works are also published by E.C. Schirmer, Guitar Chamber Music Press and other outlets, and have been recorded on the Koch and Music and Arts labels.
Dr. Lipkis also directs the Early Music program at Moravian, which features four ensembles that perform music from the Renaissance and Baroque eras.  Since 1984, he has been a member of the professionally early music ensemble The Baltimore Consort (https://baltimoreconsort.com/) which tours nationally and internationally and has made 17 recordings on the Dorian/Sono Luminus label. 
Dr. Lipkis serves as the Music Director of the Unitarian Universalist Church of the Lehigh Valley, and is also on the Board of Managers of the Bach Choir of Bethlehem. During the summer months, he serves as a Music Director for the Pennsylvania Shakespeare Festival.
*Larry Lipkis will be on faculty for Week 1 of the 2023 Amherst Early Music Festival.
Link: