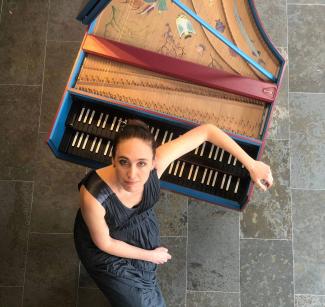 Alissa
Duryee
Harpsichord
New Jersey native Alissa Duryee is a keyboardist specializing in historical instruments.  She holds degrees in modern piano (Ecole Normale de Musique de Paris), harpsichord/fortepiano (Conservatoire de Région de Paris) and organ (Conservatoire de Chartres). Her personal initiatives include the prize-winning Duo Dialogues, formed with cellist Jérôme Huille, which made a recording retracing the history of keyboard and cello literature from Frescobaldi to Debussy and continues to explore this repertoire through unconventional programming.  Recently she recorded 'An Das Klavier', a program of European and Moravian Music played on the Meerbach clavichord held at Moravian College in Bethlehem, PA.  
As a continuist, she has appeared with such ensembles as La Fenice (Jean Tubéry) and Opera Fuoco (David Stern).  As a performer, Alissa appears in recital (Boston Clavichord Society, Les Journées Lyriques, Les Clavecins de Chartres…) and in various chamber music projects, striving for innovative inclusion of lesser-known works.  She thrives on collaboration with dancers, composers, and musical theater (Compagnie du fils du Grand Réseau, Pierre Guillois).   Since 2013, she has been the organizer of an annual weekend of keyboard masterclasses and concerts, with fortepianists Bart van Oort and Petra Somlai.
Also a composer, Alissa's piece 'Forager's Journal' was awarded the Second Prize in the International Clavichord Composition Competition of the Nordic Historical Keyboard Festival. Her music has been premiered at the Conservatoire National Supérieur de Paris as part of the 'Journées de Clavecin en France', and in 2021, she was awarded the Judith Lang Zaimont prize of the International Alliance for Women in Music.  Much of her creative work revolves around hearing historical instruments in new ways, and in new contexts (in the dark, in an elevator…)
Alissa is professor at the Conservatory in Dreux, France, where she also holds the position of Assistant Director.  She is responsible for a teaching studio operating under the philosophy of a global approach to keyboard instruments, from beginner to advanced levels.  Her outreach projects benefit from the institutional support of the 'Conseil Départemental de l'Eure et Loir'.
Link: