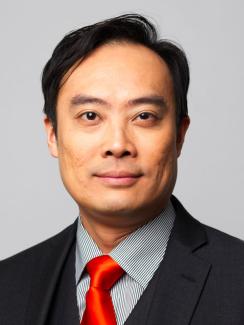 Phillip
Cheah **
Voice
Hailed by The New York Times for his "particularly potent contribution", Phillip Cheah maintains an active professional life as a conductor, vocalist, pianist, and teacher.
Cheah's singing has been noted for its "warm tone and stately presence" (parterre box) with a unique three-and-a-half octave vocal range which "defies the laws of nature" (Time Out New York). He is a member of the professional choir at the Church of St. Luke in the Fields and sang for many seasons with the renowned Bach Vespers Choir at Holy Trinity Church. He has performed at Lincoln Center, Carnegie Hall, The Metropolitan Museum of Art, Madison Square Garden, Saint Thomas Church Fifth Avenue, Trinity Church Wall Street, the Cathedral of Saint John the Divine, Saint Bartholomew's Church, and Temple Emanu-El with the New York Philharmonic, Los Angeles Philharmonic, American Symphony Orchestra, and Mostly Mozart Festival Orchestra. Artists with whom he has worked include Lorin Maazel, Riccardo Muti, Kurt Masur, Esa-Pekka Salonen, Gustavo Dudamel, John Scott, Sir Paul McCartney, Olympia Dukakis, Ramin Djawadi, YEBBA, and Madonna. He has appeared as a soloist with the Church of St. Luke in the Fields, The Glass Menagerie, Crescent Choral Society, Vertical Repertory Players, and the Canby Singers. He can be heard on the Pro Organo, Tzadik, Centaur, and MSR Classics recording labels.
Praised by The New York Times for his ensembles' "warm tone and carefully calibrated blend", Cheah is the Music Director of Central City Chorus and Amuse as well as a founding member of the New York-based new music chorus, C4: The Choral Composer-Conductor Collective. He has conducted REBEL Baroque Orchestra, the Adelphi Orchestra, New Music New York, Cerddorion Vocal Ensemble, and various New York Summer Sings hosted by the New York Choral Society, the West Village Chorale, St. George's Choral Society, and the New York Choral Consortium. Equally at home with opera and musical theater, he was the assistant conductor and répétiteur at the venerable Amato Opera for three seasons and he has served as the music director for productions at The Brearley School, Acting Manitou, Dwight-Englewood School, Bloomington Music Works, and the 13th Street Repertory Company.
A passionate advocate for music education at all levels, Cheah has taught at The Putney School, Cathedral High School, Barnard College, Manhattan School of Music, and The Brearley School where he served as the staff accompanist. He has also been the personal assistant to the composer and satirist, Peter Schickele, and worked at Oxford University Press as Manager for Concert and Choral Promotion.
Cheah holds both B.S. and M.M. degrees from Indiana University Jacobs School of Music in piano performance, choral conducting, and opera coaching where he studied with Jan Harrington, Thomas Dunn, and Christopher Harding. In addition to studies at the Universität für Musik und darstellende Kunst Wien under the auspices of the Institut für Europäische Studien, he was also a recipient of the 2002 National Endowment for Humanities Grant to study the German operas of Wolfgang Amadeus Mozart in Vienna, Austria.
**Phillip Cheah will be on faculty for Week 2 of the 2023 Amherst Early Music Festival.
Link: