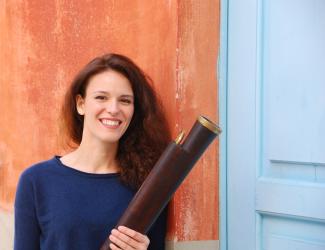 Giulia
Genini
Dulcian Recorder
Born in Lugano, Switzerland, Giulia Genini began her studies on recorder at the Conservatorio della Svizzera Italiana with Giorgio Merati. Her interest in early music and the instruments of the era led her to Basel where she continued her studies at the Schola Cantorum Basiliensis with Conrad Steinmann. At the same time she began studying dulcian and baroque bassoon with Josep Borras and Donna Agrell. During her studies she also participated in numerous Master Classes, notably with Jordi Savall, Pierre Hamon, Masaaki Suzuki, Steven Devine and Katharina Arfken. In 2008 she obtained her diploma in recorder (performance and pedagogy) with distinction, and in 2010 she obtained her Master in Historical Performance Practice in baroque bassoon and dulcian, also with distinction.
She was awarded a scholarship of the FriedlWald Stiftung Basel (2005), as well as the ASRI Prize in 2009 (Schweizerische Gesellschaft zur Pflege der kulturellen und wirtschaftlichen Beziehungen zu Italien/Basel). In 2014 she won the first prize of the Foudation Kiefer Hablitzel.
In 2015 she played as a soloist at the Menuhin Festival Gstaad, as winner of the Kiefer Hablitzel Preis.
As a recorder player and a bassoonist she performs with Ensembles such as: La Cetra Barockorchester Basel, I Barocchisti, Accademia Bizantina, Il Giardino Armonico, La Divina Armonia, Ensemble Claudiana, La Piffarescha, Cappella Mediterranea, Kammerorchester Basel, Venice Baroque Orchestra, Accademia degli Astrusi, Freitagsakademie Bern, Capriccio Basel, Il Pomo d'Oro, Il Complesso Barocco, NDR Barockorchester, Orchestre de Chambre de Genève, Orchestre de Chambre de Lausanne, Orchestre de l'Académie Européenne, Britten Pears Baroque Orchestra, Cantus Cölln and Concerto Palatino, Freiburger Barockorchester, Il Gusto Barocco, Miszla Baroque Orchestra. She has worked with conductors such as Andrea Marcon, Diego Fasolis, Giovanni Antonini, Lorenzo Ghielmi, Luca Pianca, Leonardo Garcia-Alarcon, Ottavio Dantone, Stefano Montanari, Alan Curtis, William Christie, Masaaki Suzuki, Bernhard Forck,  Konrad Junghänel, Ivor Bolton, Federico Ferri, Gabriel Garrido, Andreas Stoehr, Jörg Halubeck.
In october 2012 she performed as a guest recorder player with the Berliner Philharmoniker for a Vivaldi programm conducted by Andrea Marcon.
As a soloist she performed together with Venice Baroque Orchestra conducted by Andrea Marcon at the Menuhin Festival Gstaad, Schleswig Holstein Musikfestival, Settimane Musicali di Ascona, Geneva Victoria Hall, Carinthischer Sommer Festival Ossiach, 59. Festspiele Europäische Wochen Passau in Ostbayern and in New York Carnegie Hall.
She also performed with the previously indicated Ensembles in the following festivals and stages: Festival d'Aix en Provence, Festival MITO Milano, Snape Maltings Festival Aldeburgh, Settimane Musicali di Ascona, Musikfestspiele Potsdam Sanssouci, Philharmonie Berlin, Teatro alla Scala, Konzerthaus Wien, Elbphilharmonie Hamburg, Leipziger Gewandhaus, Meistersingerhalle Nürnberg, Concerti d'autunno all'Auditorio Lugano, LAC Lugano,  Vaduzer Konzerte, Stadt-Casino Basel, Auditorio de Girona, Palau de la Musica di Barcellona, Auditorio Nacional de la Musica Madrid, Teatro Real de Madrid, Theater Basel, Theater an der Wien, Schlosstheater Celle, Théâtre Métropole de Lausanne, Grand Théâtre de Genève, Grand Théâtre de Provence, Teatro Comunale di Treviso, Teatro Grande di Brescia, Tonhalle Zürich, Concertgebow Amsterdam, Auditorio de Oviedo, Auditorio de Valencia, Grimaldi Forum Monte Carlo, Opéra Royale de Versailles, Festival d'Ambronay, Trigonale Festival, Bodø Concerthall, Tivoli Concerthall Copenhagen, Innsbrucker Festwochen der alten Musik, Haendel Festspiele Halle, Bachfestival Leipzig, Musikfest Bremen, Festival Wratilsawia Cantans Wroclaw, Misteria Paschalia Krakow, Fabbriceria Duomo Venzone, KKL Luzern, Auditorio Stelio Molo Lugano, Festival di Musica Antica a Magnano, Fabulous Fringe Festival Utrecht, Davos Festival Young Artists in Concert, Festival Cantar di Pietre, Ceresio Estate, Festival Alte Musik Live Berlin, Festival Altstadt Serenaden Basel, Festival Midi Musique Basel.
Radio recordings for RSI Radio Svizzera Italiana Rete Due, Radio de la Suisse Romande Espace 2, Radio Swiss Classic, Radio Classique France, SRF Kultur und MDR, video recordings for ARTE, TSI and Schweizer Fernsehen and CD recordings for Deutsche Grammophon, Virgin Classics, Decca, Deutsche Harmonia Mundi and CPO.
Since 2015 she is often invited as guest-coach at the Conservatorio della Svizzera Italiana in Lugano, coordinating winds sectionals for orchestral projects about Historical Performance Practice. There, she's also currently working as Co-Head of Studies in the performance area.
In April 2019 she taught a Workshop at the Schola Cantorum Basiliensis about italian instrumental repertoire from 17th century.
She was member of the jury for the Swiss Youth Music Competition in 2010, 2012, 2014 and 2016.
She is founder member and artistic director of the ensemble Concerto Scirocco. She is also artistic director of CaronAntica Festival, a concert series dedicated to early music that takes place in the charming historical village of Carona, by Lugano, Switzerland.
She teaches recorder ad historical bassoons at the Conservatorio "B. Maderna" in Cesena.
Link: