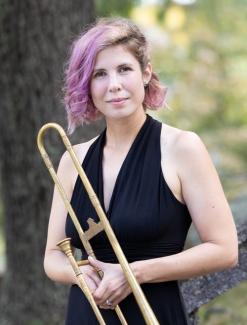 Liza
Malamut **
Sackbut
Liza Malamut regularly appears as a trombonist, educator, and presenter throughout the United States and abroad. She is Artistic Director of The Newberry Consort, a Chicago-based organization that creates accessible and historically informed performances of Medieval, Renaissance, and Baroque music; and a founding member of Incantare, an ensemble of violins and sackbuts formed to highlight music of lesser-known and marginalized composers and their contemporaries in early modern Europe. 
Liza has performed with Trinity Baroque Orchestra, Mercury Chamber Orchestra, Tafelmusik, Opera Atelier, the Handel & Haydn Society, Dark Horse Consort, Boston Camerata, Piffaro, the Folger Consort, Opera Lafayette, TENET, Apollo's Fire, and many other ensembles. Her playing can be heard on the Musica Omnia, Naxos, Hyperion, New Focus Recordings, and George Blood Audio labels. She has performed at international venues all over the world, including Carnegie Hall, Washington National Cathedral, the BAM Center, Warsaw Philharmonic Hall, and the Chiesa di San Rocco.
A passionate teacher and researcher, Liza has presented masterclasses, lecture recitals, and papers at conferences and institutions throughout the country. Her academic work was supported by an American Dissertation Completion Fellowship from the American Association of University Women, and she is a coeditor and contributor for the recently published book Music and Jewish Culture in Early Modern Italy: New Perspectives with Rebecca Cypess and Lynette Bowring (Indiana University Press).
Liza holds a Bachelor of Music degree in Trombone Performance from the Eastman School of Music, where she studied trombone with John Marcellus; and a Master of Music degree from Boston University, where she studied with Don Lucas. She earned her Doctor of Musical Arts degree in Historical Performance from Boston University, where she studied with Greg Ingles. Her dissertation, a method book for modern trombonists, integrates historical techniques with mainstream playing and introduces eighty-eight solo etudes for trombone transcribed from historical sources. She currently teaches historical trombone at Indiana University.
**Liza Malamut will be on faculty week 2 of the 2023 Amherst Early Music Festival.
Link: