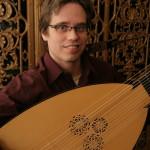 Jason
Priset **
Lute
Based out of New York City, Dr. Jason Priset is a regular soloist and performer in the United States and internationally. Dr. Priset has appeared through the Chamber Music Society of Detroit, Early Music New York, Florida Grand Opera, and the Riverside Symphony including performances in the Cathedral of St. John the Divine & Alice Tully Hall at Lincoln Center in Manhattan and the L'Auditori & Museu de la Musica de Barcelona in Barcelona, Spain. As an international artist Dr. Priset has appeared in concerts in Spain, Taiwan, the United Kingdom, and the United States.
Dr. Priset holds a Doctor of Musical Arts (D.M.A.) from Stony Brook University and a post Doctorate degree from Escola Superior de Musica de Catalunya (ESMUC) in Barcelona, Spain and specializes in historical guitars and lute. He has studied extensively with the modern composer James Piorkowski (State University of New York at Fredonia), Jerry Willard (Stony Brook University), Xavier Diaz-Latorre (ESMUC) and Pat O'Brien. Dr. Priset is currently serving as Executive Director for the Lute Society of America (LSA) summer festival, faculty for the Amherst Early Music (AEM), and serves on faculty for Montclair State University in New Jersey.
In Dr. Priset's career, he has also performed in Master Classes with Pablo Cohen, Eduardo Eguez, Lucas Harris, Nigel North, Paul O'Dette, Luca Pianca, Raphaella Smits, Stephen Stubbs, Benjamin Verdery, Jason Vieaux, Andrew York, and Luis Zea.
**Jason Priset will be on faculty week 2 of the 2023 Amherst Early Music Festival.
Link: