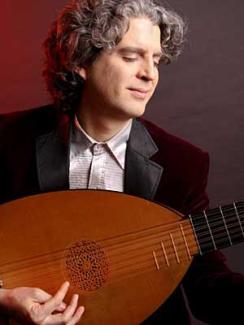 Christopher
Morrongiello
Lute
Christopher Morrongiello, a former British Marshall Scholar and Overseas Research Scholar, is a musicologist, performer, teacher, luthier, impresario, and director who specializes in early music. He is a graduate of the Mannes College of Music, Royal College of Music, and University of Oxford, where he earned a doctorate in historical musicology.
Dr. Morrongiello has published articles and reviews in academic journals, such as Early Music, The Consort, Journal of the Lute Society, and has taught, lectured, and performed at many international music festivals, such as the Utrecht Early Music Festival, Amherst Early Music Festival, Boston Early Music Festival, Madison Early Music Festival, and Lute Society of America Summer Seminars.
As a recitalist on historical plucked instruments, he has performed to critical acclaim throughout Europe and the United States. In 1993 he was a prizewinner in the BBC Radio Two Young Musician of the Year Competition, and in 1996 was awarded a Marco Fodella Foundation Scholarship for studies at the Civica Scuola di Musica in Milan, Italy. In recognition of his excellence as a teacher, scholar, and performer, the Lute Society of America in 2006 conferred upon him its first Patrick O'Brien LSA Seminar Lectureship. Morrongiello was a longtime student of Patrick O'Brien (1947-2014), widely considered one of the greatest pedagogues in the history of the guitar and lute.
Dr. Morrongiello is the Artistic Director of the Long Island Early Music Festival at the Cathedral of the Incarnation in Garden City, New York. This annual Festival has engaged and inspired the community with concerts given by leading as well as emerging artists in the field of historically informed performance (HIP). The Festival is now in its fourth season.
He is also Director of the Hofstra Collegium Musicum, which performs musically and dramatically compelling concerts of early music each year at the Hofstra Shakespeare Festival. These concerts, which include acting, staging, costumes, props, oratory, historical dance and period gestures, are becoming more and more like music dramas. Morrongiello calls them "early musicals."
Heralded as an innovative director of large-scale dramatic works, Dr. Morrongiello has a gift for bringing the music of the Renaissance and Baroque periods to life in its literary and social context. His musical portrait of the Elizabethan muse and songstress Lady Penelope Rich, created for Grammy Award-winning singer Emily Van Evera (My Lady Rich, Avie 0045), has been described by Renaissance Magazine as "a presentation of unusual quality and beauty" and by the NY Times as "an inspired idea . . . a vivid and touching portrait."
He has recorded for EMI, Avie, Gamut Music, the Lute Society of America, Visionaire, and the BBC. He has also been interviewed and recorded live on various radio and television broadcasts throughout the States, Canada, and Europe.
Recently, the Metropolitan Museum of Art produced and released several beautiful music videos of Dr. Morrongiello's playing on a gut-strung, late-16th-century lute, as well as on copies of old lutes, in its musical instrument collection; see, for instance, the MET's Listening to a Four-Hundred-Year-Old instrument.