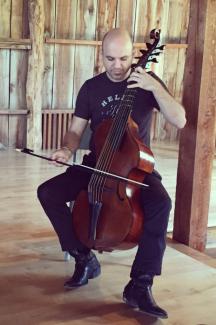 Loren
Ludwig
Viol
Loren studied viola da gamba at Oberlin Conservatory and holds a PhD in Critical and Comparative Studies in Music from the University of Virginia.
As a viol player, Loren performs widely as a soloist and chamber musician. He is a co-founder of critically acclaimed ensembles LeStrange Viols and the 17th century string band, ACRONYM.
As a scholar of early modern musical culture, Loren researches what he terms "polyphonic intimacy," the idea that music in the Western tradition is constructed to foster social relationships among its performers and listeners. Loren has served as musicology faculty at the Peabody Institute of Johns Hopkins University, Grinnell College, and the New Zealand School of Music. Loren teaches chamber music and performance practice at residencies and festivals across four continents.
Current projects include the reconstruction of a lost tradition of ensemble string playing in New England c1800 and archival work in VA and MD uncovering evidence of the participation by African American musicians in colonial musical culture. For ongoing, public-facing content related to this work, please visit the "CV and publications" area of my website.
Recent projects investigate the influences of Hermetic and Catholic esotericism in the history of early modern music theory, and the confluence of music and alchemy in 17th-century alchemical works by Michael Maier, as well as the James River Music Book, a newly discovered manuscript of chamber music from Virginia, c.1738.
Link: