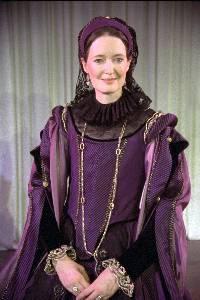 Dorothy
Olsson *
Dance
Dorothy J. Olsson has given numerous workshops in historical dance and has choreographed for and/or performed with Piffaro, the Folger Consort, Musica Nuova, Western Wind Vocal Ensemble, SUNY Stony Brook, Mannes Camerata, Wake Forest University and Princeton University. Dorothy directs and teaches at the Historical Dance Program at the Amherst Early Music Festival where she has also directed several historical theatrical productions. She also choreographed for more than fifty theatre projects or operas for the Amherst Early Music Festival, including Telemann's Der Geduldige Socrates, Handel's Almira, Campra's L'Europe Galante, Monteverdi's Ballo delle Ingrate, Conradi's Ariadne, Torrejón y Velasco's La Púrpura de la Rosa, Keiser's Pomona, and Purcell's Dioclesian and Dido and Aeneas.
Dorothy received her B. M. in Music Education, major in Bassoon, from the Crane School of Music (State University College at Potsdam, NY), and received her Master of Music in Musicology from Manhattan School of Music. She completed her Ph.D. in Performance Studies at New York University, with a dissertation on early twentieth-century dance entitled Arcadian Idylls; Dances of Early Twentieth-Century American Pageantry. She was an Assistant Professor of Dance Education at New York University for ten years. Dr. Olsson has co-authored seven books on historical dance, including Terrstepery, A Primer for Historical Dance. Her article on "Seventeenth-Century Dance" appears in A Performer's Guide to Seventeenth-Century Music (ed. Stewart Carter, Schirmer Books, 1997; 2nd edition, Indiana Univ. Press, 2012).
She is the Founder and Director of the New York Historical Dance Company (www.newyorkhistoricaldance.com). The company performed in October 2010 in Philadelphia for Piffaro's 25th Anniversary Gala Celebration, The Royals' Baptism & Ballet, along with Parthenia & The Blue Heron Renaissance Choir. In March 2010, Dorothy presented a lecture demonstration at The Metropolitan Museum of Art entitled The Jigge Is Up: Dance in Shakespeare's Time; the musical ensemble Flying Forms provided musical accompaniment. This presentation was part of the day long series "Early Music Exposed" sponsored by the Early Music Foundation. She has taught Baroque dance at the "Rethinking Bach: A Performer's Workshop" at Tokai University, Japan in 2014, 2015, and 2016. At the Queen's College Baroque Opera Workshop, she also choreographed dances for a production of Lully's Le Carnaval mascarade.
*Dorothy Olsson will be on faculty for Week 1 of the 2023 Amherst Early Music Festival.