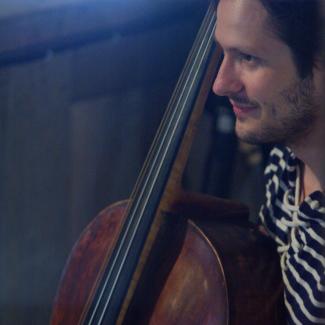 Jérôme
Huille
Cello
Born in the town of Pithiviers (in the Loiret region of France) in 1981, Jérôme Huille began his cello studies with Augusin Lefebvre at the Orléans Conservatory, where in 1996 he was awarded his Premier Prix by a unanimous jury.
After earning his literary baccalaureat degree in 1999, he was accepted into the cello class of Roland Pidoux at the Conservatoire National Supérieur de Musique et Danse de Paris. During this period of study, he was awarded the 3rd Prize in the Fourth International Jean Françaix competition (2001). In 2003, he received the « Diplôme de Formation Supérieure » with honors in cello, followed by the the same diploma in chamber music after two additional years of study with Alain Meunier.
He has participated in masterclasses given by Phillipe Muller, Arto Noras, and Anner Bijlsma and been a regular performer in such ensembles as the Orchestre de Paris, the Opera de Paris, and the company « Les Brigands ».
Additionally, his affinity for early music led him to study with David Simpson at the Conservatoire National de Région de Paris (Departement de Musique Ancienne), where he was awarded a diploma with honors in baroque cello in 2006. The subject of his thesis was the lirone, an instrument which he plays as well. At the end of this same year, he returned to the Conservatoire Nationale Supérieur to pursue postgraduate studies with Christophe Coin.
Jérôme has been part of chamber music projects with such musicians as François Fernandez, Philippe Pierlot, Christophe Coin, Jean Tubéry, and Kenneth Weiss, and such ensembles as Les Arts Florissant, Les Talens Lyrique and as continuo or cello solo with the ensembles and orchestras « La Fenice », cappella mediterranea, Opera Fuoco, « Les siècles », le concert de la loge...
In 2007, he collaborated with choreographer Béatrice Massin on a project highlighting a musical correlation between art, dance, and musique during the Seventeenth Century, which featured performances of Bach's solo cello suites at the Musée du Louvre.
In 2008, the support of the Fondation Meyer allowed his to create a recording in the 'jeunes solistes' collection of the Paris Conservatory, rectracing Italian cello repertoire from the Seventeenth to Nineteenth Centuries.
As part of the 'Dialogues' duo with keyboardist Alissa Duryee, he recently won the 'Concours Musique au Centre', which, with the support of the Aprionis group, enabled the duo to complete a recording project based on the French repertoire for cello and keyboard.