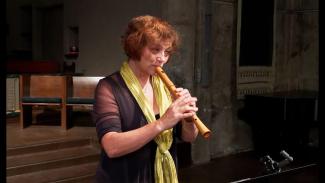 Saskia
Coolen *
Recorder
Saskia Coolen studied the recorder with Kees Boeke and Walter van Hauwe at the Sweelinck Conservatory in Amsterdam, as well as musicology at the University of Utrecht. For many years, she has been a member of La Fontegara and Camerata Trajectina, which have given numerous concerts at home and abroad. She has also played in the Taverner Players, the orchestra of the Nederlandse Bachvereniging, the Freiburger Barockorchester, the Gabrieli Consort, Tragicomedia, the King's Consort, and other major ensembles and chamber music groups throughout Europe.

In 1994 she founded Ensemble Senario, which focuses on Baroque chamber music in which the recorder is featured as a major instrument. With her own Recorders Foundation she works in the field of multi-disciplinary music theatre. Saskia Coolen gives courses and master-classes throughout Europe and America, and she teaches at the Conservatorium van Amsterdam.
* Saskia Coolen will be on faculty for Week 1 of the 2023 Amherst Early Music Festival.