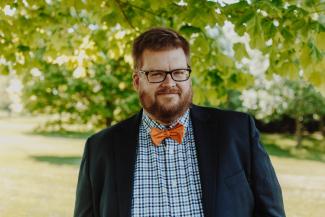 Geoffrey
Williams **
Voice
Geoffrey Williams (Countertenor) hails from the Midwest and began his musical life as a treble in the American Boychoir. He is in growing demand as an early music specialist throughout the United States, performing regularly with Vox Vocal Ensemble, Early Music New York, and the Clarion Music Society. He is founding member and artistic director of the acclaimed male classical quartet New York Polyphony. Their current CD, Tudor City, has been featured on American Public Radio's New Classical Tracks, WNYC's Choral Fixation and NPR's All Things Considered.
A devoted church musician, Geoffrey is a graduate of Westminster Choir College, a former member of the Washington National Cathedral Choir and is currently a Gentleman of the Choir of Men and Boys at Saint Thomas Church Fifth Avenue.
Acclaimed by the Denver Post for his "sculpted, soaring sound," Geoffrey is as comfortable performing the music of Perotin and Purcell as he is with postmodern and contemporary repertoire including recent appearances with Grammy-award winning contemporary music ensemble, eighth blackbird. In the summer of 2011 he joins the faculty of the Amherst Early Music Festival.
**Geoffrey Williams will be on faculty for Week 2 of the 2023 Amherst Early Music Festival.